COVID-19 Precautions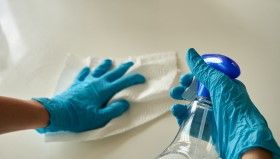 To our valued clients, 
We want to inform you Maid To please is still open and taking the necessary precautions. Every day we are taking our cleaning technicians temps, wear gloves, masks, and suits, and we use an effective disinfectant that kills the coronavirus. 
A clean home is a healthy home, and now, it's more important than ever to sanitize and disinfect your home!

The cleaning products we use are the most effective disinfectant, killing 99.999% of germs on surfaces (reducing cross-contamination). It is household safe, leaves no harsh odors, and has shown to kill the Coronavirus (COVID-19).
Our staff is committed to keeping your house healthy and clean by using the best products and taking the right precautionary measures. We have also committed to staying home if any signs or symptoms arise to protect you, our clients, and their co-workers.
IF THERE ARE SYMPTOMS OF ILLNESS FOR ANY PERSONS IN YOUR HOME PLEASE GIVE US A CALL SO THAT WE CAN POSTPONE OR RESCHEDULE YOUR CLEANING.

We hope that we can aid in your safety and peace of mind during this time. Your health depends on a clean environment, and we can make your home a safe, clean space amidst the chaos.

If you have any questions or concerns, please do not hesitate to call our office at 402-434-2472.

Maid To Please is here for you!"